The first blackjack basic strategy was announced in 1953 by the famous author and player Roger Baldwin. Then, in 1962, Edward Thorp published a text on how to play blackjack using computer calculations. 
Such a strategy involves knowing exactly when to make decisions: 
Hit

Stand

Split

Double Down

Surrender
Also widely known are the books and tables by authors Peter Griffin and Stanford Wong. The tables help to make decisions that are best suited to the current moment. The basic rule for all action algorithms is never to use side bets. Unless you are counting cards, this is a risky move, threatening losses. 
In online and live blackjack, it probably doesn't make sense to count cards for two reasons:
The game uses unlimited shuffling machines, which means the cards are shuffled even during a hand.

Too many decks are used at the table — with 6-8 decks, it's tough to count cards.
You can achieve consistent blackjack winnings by using the blackjack basic strategy chart. 
Blackjack basic strategy chart
These charts help you quickly make and remember the best decisions, knowing your 2 cards and the dealer's one open card. They are marked with five color options for five solutions, from hit to surrender. 
Today, there are many variations of tables for basic blackjack strategies. Each of them applies to the corresponding version of the game: single, double, multi-deck. Reading them is simple: the top horizontal shows the dealer's cards, while the left vertical shows the player's cards.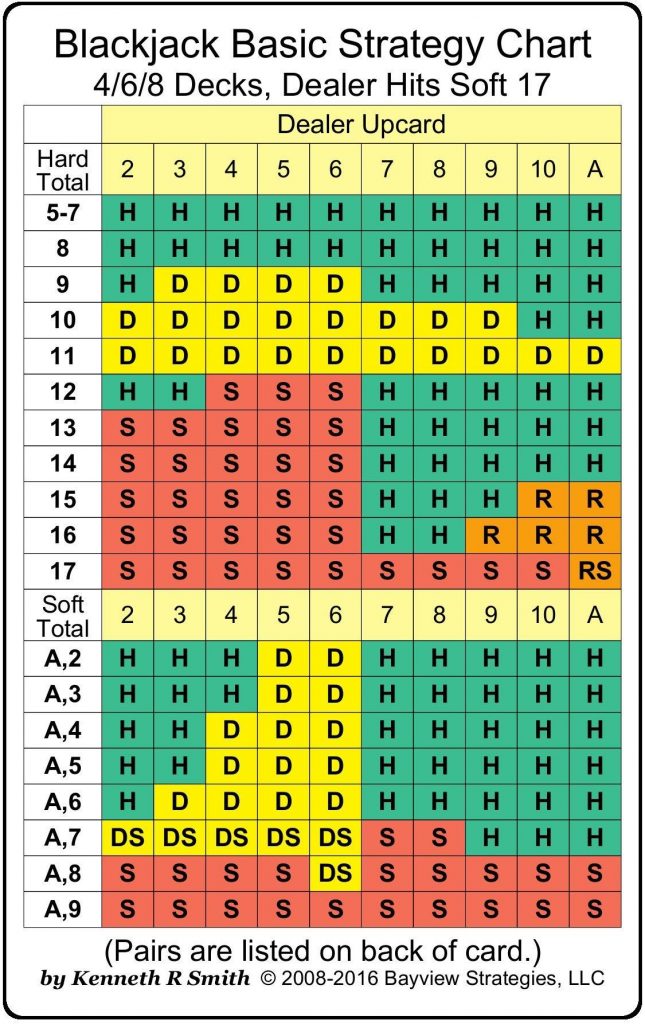 Before choosing the blackjack online title, you should read the information in it. Essential criteria for selection:
Paying the top combination as 3 to 2, not 6 to 5 or other options;

The dealer stops at a "soft 17".
Depending on the blackjack rules spelled out in a particular game product, your strategy changes slightly. You make some decisions when the dealer can draw cards with 17 points. And others when your opponent always stops at 17.
Basic strategy blackjack algorithm
The first rule to remember is Surrender. This option is only available when you get the first 2 cards. Later on, this option is not possible. So it becomes the first in your strategy, yes or no.
When to Surrender:
If the dealer has an open card of 9 to an Ace and you have 16 points;

If the dealer has an open 10 and you have 15 points.
If you decide to play on, then you are considering the Split decision:
Always use this option at 2 aces;

You can use it at two eights;

Do not split nines and tens, fives and fours.
In some cases, it's worth doubling your bet. When you see a combination of cards that has a good chance of winning, double up. It is worth doing when:
Your cards have a total of 11 points. You're likely to get a chance to get 21 or a close number;

If you have a soft 16 — 18. But only if the dealer's open card is a low value;

Blackjack basic strategy card "hard" 9 or 10 (no ace). Also, in case the dealer has small cards;

And never double up if the dealer shows an Ace. Also, if your cards count over 11. In that case, the risk of losing is too high.
And in the end, the strategy, how to play blackjack, comes to one decision: hit or stand. You can hit if your hand counts up to 8. Then you have a chance of getting to 21 or close to it. 
Always stop if you have more than 17 points because you are too risky to go over 21 if you draw the next card.
How to remember the basic strategy of blackjack
Practice with the online blackjack demos to hone your strategy. You can find the demos on gambling websites or specialized information portals. Casino YOJU provides all the versions of blackjack in a free version. You can practice as much as you like using virtual currency.
You can also find free simulators online that teach you the right decisions. The programs tell you the right solution, and you can adjust the prompts as you see fit.
You can learn blackjack strategies with actual physical cards. Buy a deck and learn the technique at your home table, alone, or with friends. Put a table next to it and look at it when necessary. To make it easier, start with hard totals and then memorize other solutions.
If you prefer flashcards, these are also a great way to memorize. You can make them yourself or buy them online. On one side, you write your hand, and on the other side, you write the required solution.
If you want to find manuals and books, websites like wizard of odds can help you. On such platforms, you will find strategies, odds, calculators, and a lot of helpful info.
And remember, the game should still be fun! Memorize, improve and enjoy!